I love baking. I have both a sweet tooth and a desire to be a younger, hipper Martha Stewart, so I'm always churning out cupcakes, cakes, cookies -- if I like to eat it, I'm going to learn to make it so that I can eat it some more.
My old kitchen
But when I lived in my studio, my constant baking made my apartment almost unbearable, especially in the summer. My unit got HOT, and combine that with a hot oven that was only 15 feet from my bed, it became a sauna. I think I sweated off all the weight I was gaining by eating what I'd made.
The other problem I was constantly running into was the lack of countertop. Where could my lemon cupcakes cool as I worked on another batch?
Apartment Therapy, which is celebrating "Kitchen and Bath Month," has two great articles on an idea I wish I could have implemented. Installing a breakfast bar is a great way to create more counter space without taking up precious floorspace. I suggest looking into simple but sturdy shelving that you can install without putting huge holes in the wall as opposed to the traditional breakfast bars/extented countertops you see here, but take a look and get some inspiration!
A kitchen makeover from Country Living, as featured on The Kitchn, with a cute cross-window breakfast bar countertop
A Cool and Elegant Renovation for a Little Kitchen (The Kitchn, AT's sister site)
Wall-Mounted Breakfast Bars (AT Chicago)
I've got another tip for ya if you're not up to installing something just yet. I have this "over the sink" cutting board from Crate & Barrel (below) and I use it all the time. You lay it over the sink, creating an instant workspace. I actually have a slightly different model with a metal colander cup-thingie, and to be honest I rarely use that part. Still, such a large cutting board is essential in a small kitchen, and I highly recommend it.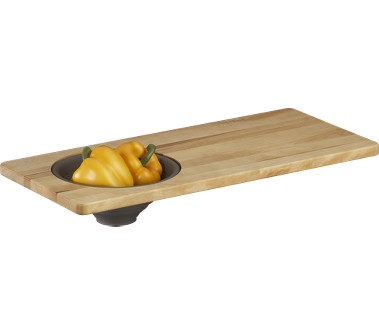 Available at Crate & Barrel
Via Apartment Therapy, The Kitchn, and Crate & Barrel.